Products tagged with Shower Curtains
Tea Cabin Shower Curtain Patchwork
Add a rustic look into your bath with the Tea Cabin Shower Curtain. The alternating blocks of blue, deep red, green and tan plaids are accented with log cabin block patches. The green plaid hem folds at the top and bottom perfectly.
$49.95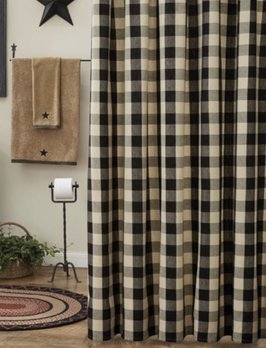 The Wicklow Black Shower Curtain brings a classic touch to your bathroom! Measuring 72"x 84" with a Black & Khaki for your country home by Park Designs . These Panel Curtains are a checked pattern in Black and Khaki, check squares approx. 1 3/4 inches.
$45.95
Heritage Farms Applique Crow and Star Shower Curtain
This Heritage Farms Crow Shower Curtain is a timeless addition to your primitive bath. Featuring various crimson, mustard, & black plaid fabric in a mini Trip Around the World pattern. The center patch is adorned with appliqued crow and star.
$79.95