Shipping & order information:

Here's the place to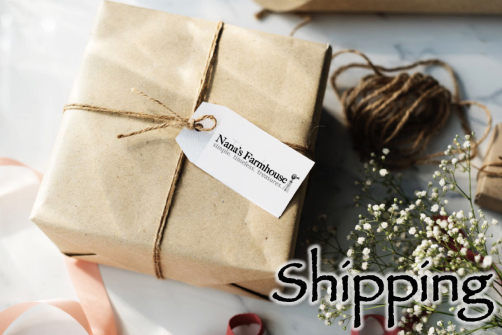 find out more about our Shipping information. Our ordering page provides you with useful information intended to make your online shopping experience easy and enjoyable. It is our goal everyday to give you "old fashioned service... with a smile!"
Our Promise:
If any merchandise from Nana's Farmhouse Online fails to meet your expectations, we will take that merchandise back. All our merchandise purchased online holds a 30-day money-back guarantee. This excludes Sale and Seasonal items.
Orders:
Most orders go out within 3 - 7 business days of receipt. Please note that business days include Monday - Friday and exclude holidays. Allow 6 - 14 business days for delivery via USPS or FedEx. In some cases our items are shipped directly from the supplier.  These items may require more time.  In the case of back-ordered items they will be shipped when available at no additional shipping charges (you will only pay shipping charges one time per order). We will confirm shipment of your order via email. Please provide your email address when checking out. All orders are shipped USPS or FedEx. Tracking information will be included in our emails to you.
Billy Jacobs Prints Shipping:
PLEASE READ BEFORE ORDERING:  
If you would like a print shipped to your home we can do that.  Additional shipping charges may apply.    Most orders will be received within 3 weeks from the day your order is processed at Nana's Farmhouse.  Please call us with any questions 314-846-NANA.
Items Not Included:
Unless specified, candles are not included with candle holders, flowers in containers are not included, bulbs are not included unless listed, etc. We simply show you how to display our merchandise. If an item is included it will be stated on the item's Product detail page.
Payment Methods:
We accept Visa, MasterCard, Discover, American Express & Paypal.
Note:  Paypal offers great security for all your information.  To use Paypal you do not have to have a Paypal account.  You are able use it as a "Guest" without creating an account.
Sales Tax Information:
Missouri residents will be charged MO State sales tax of 7.6130%.
Shipping Information:
All orders are shipped United States Postal Service Priority Mail or FedEx. The following shipping charges apply to orders shipped within the continental USA. Your total amount will reflect these prices when you checkout with our shopping cart. We only ship in the continental United States.  We do not ship to international addresses.
If additional shipping charges are required, we will email you the shipping charges for your approval prior to processing your order.  This may apply to large and heavier items.
*Shipping charges are displayed at checkout.  
**Shipping rates are subject to change due to carrier changes.  All changes will be posted here.