Products tagged with Light
Sale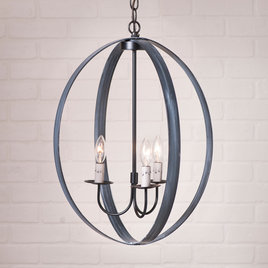 Farmhouse Oval Sphere Chandelier in Black
CLEARANCE! The 20-Inch Oval Sphere Pendant in Black is a fascinating light that will add a unique dimension to your room's decor. The Light is crafted from metal straps to create this beautiful pendant. Made in the USA. This light is in-store now.
Elegance Double Mini Table Lamp - 21" T
The classic Elegance Double Mini Table Lamp will fit perfectly in your Early American home. Made for historic American and Colonial home decor, handcrafted to detail for authenticity this lamp is made with 2 lights, 40 watts per socket in the USA.
$169.00