Products tagged with Kitchen
This black checked placemat will the be a beautiful touch on the table for your next gathering! From the Wicklow Black Collection. Created by Park Designs this is a classic checkerboard pattern with a color scheme of black & beige. Measures 13" x 19".
$6.99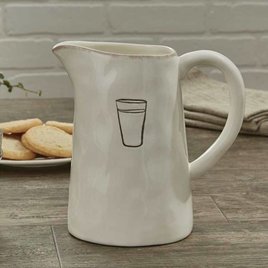 The Villager Pitcher comes from the Villager ceramic dishwater collection and is made from high fired dolomite. In cream background with debossed pencil sketched kitchen icons features brushed edges. A beautiful Farmhouse look for your home!
$32.95
ARRIVING SOON! The Villager Battter Bowl in cream is a timeless addition to your kitchen! Perfect for your next cake mix or for pancake batter! This dish is microwave safe & dishwasher safe. Measures 7" High x 8" deep.
$56.95