Products tagged with Early American Lighting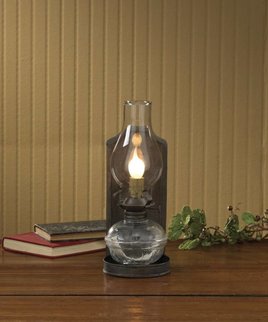 Go back in time with this Pressed Back Oil Lamp. Oil Lamps were used in the mid 19th century when whale oil was more readily available. Utilizing cotton wicks with the oil allowed for a more consistent flame & could be refilled with available whale oil.
$44.95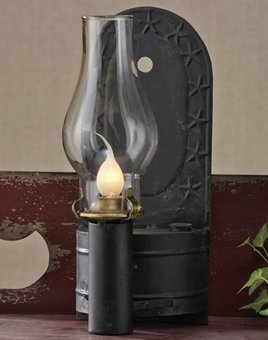 Step back in time and see the glow on your walls with the Kerosene Wall Sconce Lamp. This is a small and simple sheet iron kerosene wall lamp with glass globe, from the 19th to early 20th century, was copied to include pressed star detail. (7 watt)
$43.95
15" Fireside Lantern in Kettle Black
You'll love this Fireside Lantern handcrafted In Pennsylvania, USA, by the country's leading primitive & early America craftsmen. Perfect sitting in your favorite nook or hanging in your home. Comes wired with one candelabra socket, 25 watts max.
$78.45