Milkhouse 8 oz. Milk Bottle
Brown Butter Pumpkin 8oz Milkhouse
You'll love the Milkhouse Candle Brown Butter Pumpkin 8oz Milk Bottle scent! Rich pumpkin puree blended with browned butter, toasted nutmeg, and cinnamon then swirled with sweet vanilla cream and brown sugar.
$17.99
Your favorite time of the year & nothing like the Caramel Apple Soy Candle to bring the scents home! Fresh, crisp apple slices dipped in gooey caramel with a touch of buttery maple, sweet vanilla & warm cinnamon. 50 hours burn time.
$17.99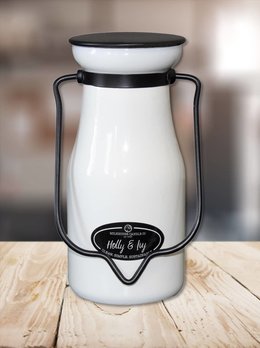 Make sure your home smells like the Holiday season! Holly & Ivy is a scent created from a blend of balsamic fir needle, emerald evergreen, & fresh-cut spruce combined with white eucalyptus & alpine woods. 50 hours of Christmas scents!
$17.99