8 oz. Milk Bottle
Your favorite time of the year & nothing like the Caramel Apple Soy Candle to bring the scents home! Fresh, crisp apple slices dipped in gooey caramel with a touch of buttery maple, sweet vanilla & warm cinnamon. 50 hours burn time.
$15.45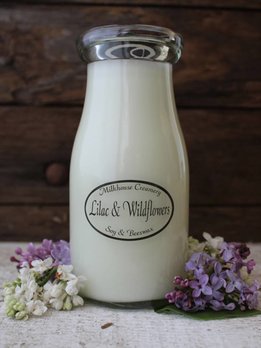 Lilac & Wildflowers 8oz Milk Bottle
Milkhouse Candle Lilac & Wildflowers 8oz Milk Bottle is a floral delight of lilac blossoms combined with sweet pea blossoms, daisies, hyacinth, & clover. In the famous Milk Bottle glass, cotton wick; 50 delightful hours of burn.
$15.45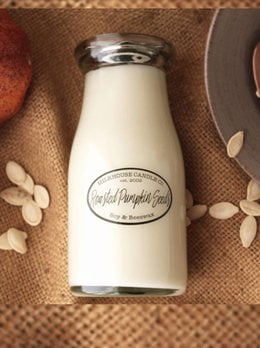 Roasted Pumpkin Seeds 8oz Milkhouse
The scent of Autumn floats thru the air with the Milkhouse Roasted Pumpkin Seeds candle. The aroma of fire roasted pumpkin seeds dusted with a hint of sugar & cinnamon. A perfect candle for your farmhouse style! 50 hours of burn time.
$15.45