Room Spray
Sure to become one of your favorites the Barn Star Spice fragrance is a spicy apple butter cakel! The name comes from the label with the barn star, wreath, sunflowers and flag. It is skin safe & can be used as a body spray.
$7.95
The Pumpkin Star Patch scent will remind you of falling leaves, cooler temps and your mom's delicious pumpkin pie. You'll love this blend of sweet and spicy pumpkin pie. It's sure to become your Autumn favorite!
$7.95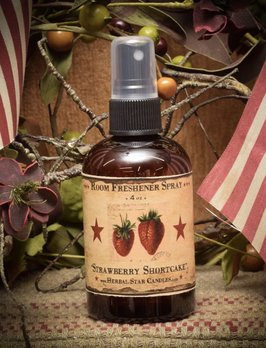 Strawberry Shortcake Room Spray
Freshen your space with the scrumptious Strawberry Shortcake! This terrace scent is a natural strawberry blended with vanilla cake. Not too sweet though, and is sold in a 4 oz bottle. Get your bottle today!
$7.95