Bonnie White
Christmas Tree Hill by Bonnie White
Christmas Tree Hill celebrates the time just before the big day. Everyone is out and about searching for the perfect
tree. Near the front of this print you'll see a family admiring the tree they have just cut. Framed in a black/walnut frame.
$92.95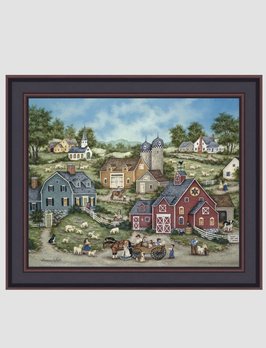 Counting Sheep by Bonnie White
Lambs enjoy the sunshine & fresh clover under the watchful eyes of their mothers. A new family has stopped by to purchase several sheep for their farm. Bonnie's dog, Misty, stands guard & counts sheep, making sure they are all accounted for.
$92.95
Catch Me If You Can by Bonnie White
The Catch Me If You Can print is from Folk Artist Bonnie White. It captures the week after Christmas when many have received new skates. A young man chases after his girlfriend as a mouse taunts a cat to Catch Me if You Can .
$92.95