Products tagged with Salt & Pepper
This country designed Salt & Pepper set come in a popular wooden crate. Features a wooden display crate that holds two glazed stoneware shakers with exposed stoneware bases. They have S and P marked at the bottom, & a cork stopper.
$19.95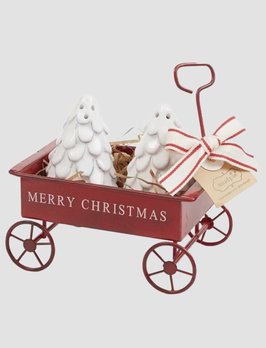 The cuteness factor is off the charts with the Tree Salt & Pepper Set! This 3-piece salt and pepper shakers features two ceramic Christmas tree shaped salt and pepper shakers, arriving in a MERRY CHRISTMAS printed red tin wagon caddy. Perfect for gifting
$19.99
Rooster & Hen Salt and Pepper Shakers
Add a vintage style look to your home with the Rooster & Hen Salt & Pepper Shakers. This set of two measures 3.5" tall. A perfect finishing touch to your country decor. Made of clay.
$8.99