Products tagged with Milkhouse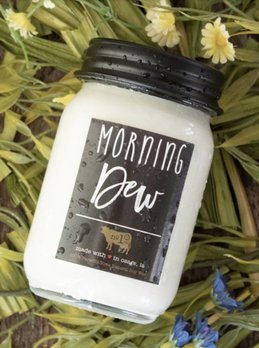 Morning Dew 13 oz Farmhouse Jar Candle
The fresh scent of Morning Dew! Luminous bergamot, sparkling yuzu, dewy lotus and oriental poppy flowers highlighted by wild hibiscus & garden mosses wrapped in sensual patchoui, soft cedarwood & amber-infused musk.
$17.45
Sweet Tobacco Leaves 16oz Butter Jar
The Sweet Tobacco Leaves scent from Milkhouse Candles will bring the fragrance of tobacco leaves accented with notes of cognac, amber, & sweet peach floating thru your home. Brings a warm, soothing, ambience to your home.
$22.75