Braided rugs are a favorite floor covering for country homes because they offer rich colors, stunning designs and are easy to maintain. Their durability offers years of enjoyment.  Available in different materials like Cotton, Jute and Ultra Wool... made of recycled water bottles. Here you'll find the types of rugs you'll find on our site.

Cotton as a material and braiding as a technique together make for a highly durable option when it comes to choosing rugs. Cotton braided rugs are perfect for places that are most used in your home,   as they protect the surface without losing its own beauty.
Why buy? The durability of these rugs, keeps the surface of your floor safe and they are available in, beautiful colors.
How to maintain? Vacuum regularly with a hard surface attachment, spot clean with a wet towel, and; professional dry cleaning recommended occasionally.
Where to get? Check out our selection of cotton braided rugs in beautiful hues and shapes.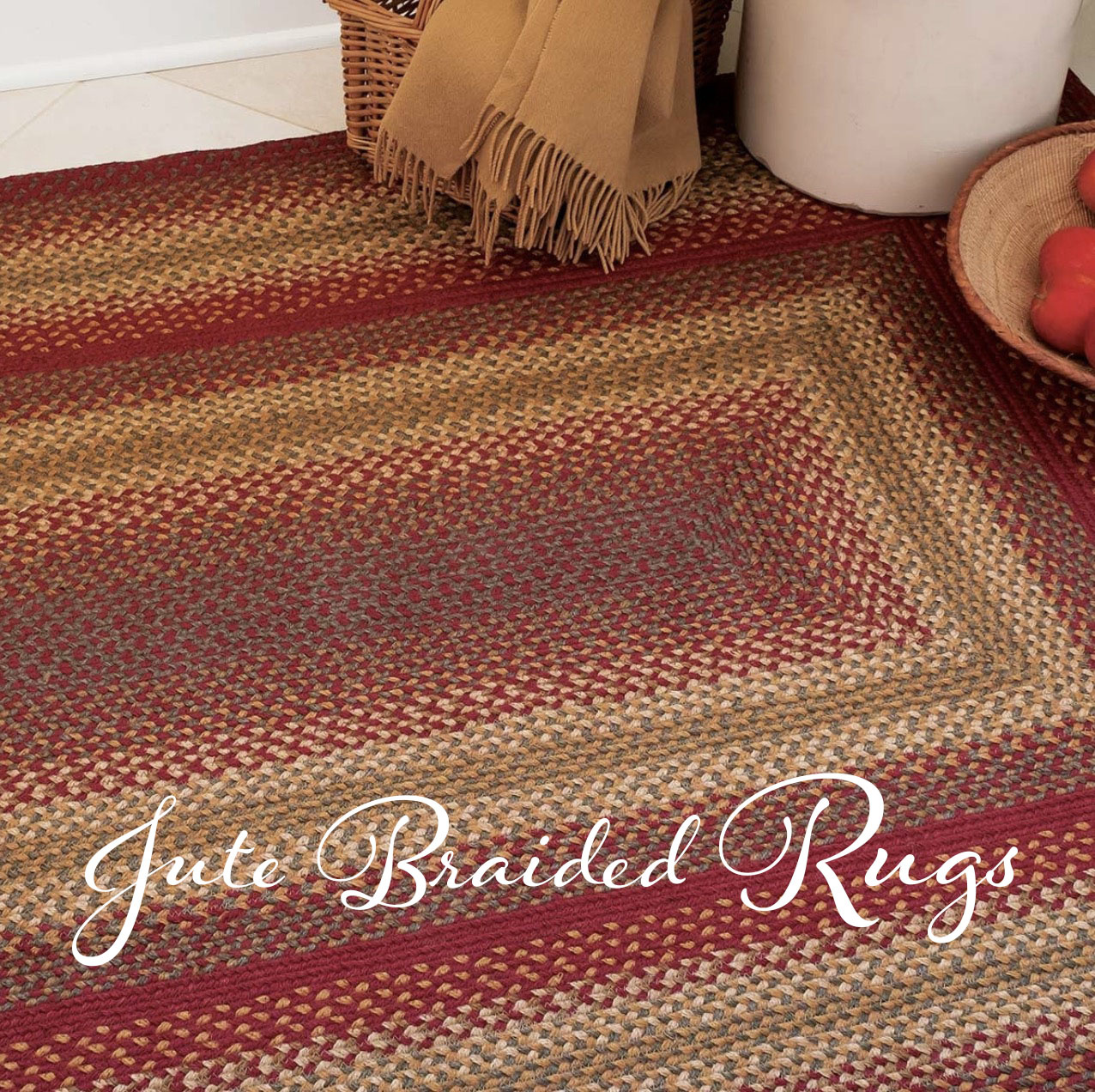 Beautiful designs made of a material that is environment-friendly, with a technique that is great for all surfaces, in almost all shapes that you could fancy. Jute braided rugs are great for all rooms thanks to their earthy tones and durable make.
Why buy? Environment-friendly, beautiful designs.
How to maintain? Vacuum with bare floor setting; do not use beater brush; spills should be blotted swiftly; spot clean (water and mild soap only).
Where to get? Find beautiful jute braided rugs in classic, trio and half moon shapes.


A rug that is spill-proof, resistant to stains, easy to maintain and yet beautiful to look at -– that's then Ultra Durable braided rug!  Perfect for the Kitchen, Entry, bathrooms or where kids & pets come in and out. No more worrying about spoiling an exquisite rug by placing it in your kid's room or even on your patio! Choose an Ultra Durable braided rug for each room from a variety of shapes and colors that match your décor.
Why buy? Spill-proof, stain resistant, easy to wash, indoor-outdoor rug.
How to maintain? Vacuum using hard surface attachment regularly; rinse with water; lay flat to dry; mild detergent may be used; beater brush not recommended.
Where to get? Choose from a range of modern, slims or classic Ultra Durable braided rugs.