Buttermilk Wall Cabinet Rusty Tin
$219.00
You'll love this Country Farmhouse Wall Cabinet with a beautiful Buttermilk finish. Made in Lancaster County, Pennsylvania, of solid wood. Storage inside and a towel rod below.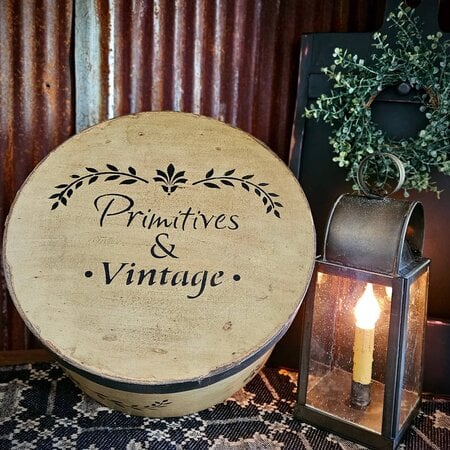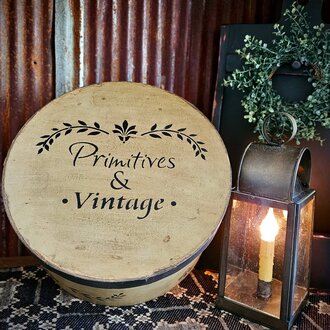 Primitives & Vintage Large Round Buttermilk Box with Lid Primitives & Vintage - 14"
$74.99
Sizable hand painted round paper mache box will add vintage allure to your home decor. Black stenciled letters and leaves are highlighted against buttermilk background. Give as a gift or keep for your home. In stock and ready to ship.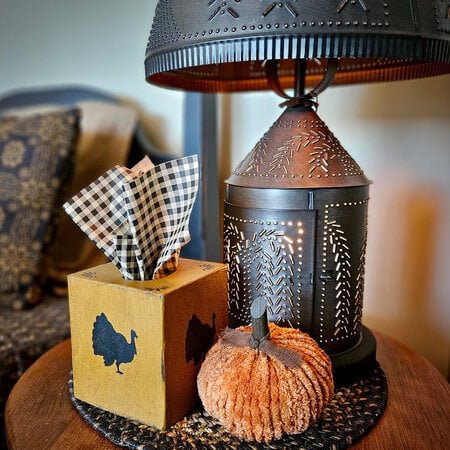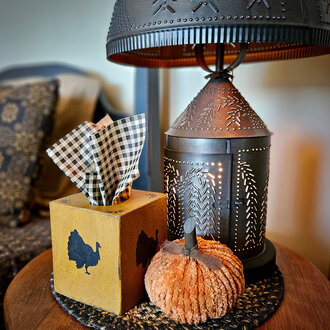 Fall Tissue Box - 5.5" T
$32.99
This fall tuck your tissues inside this hand painted decorative box. An unexpected accessory to dress up the tissue box in any room. In stock and ready to ship.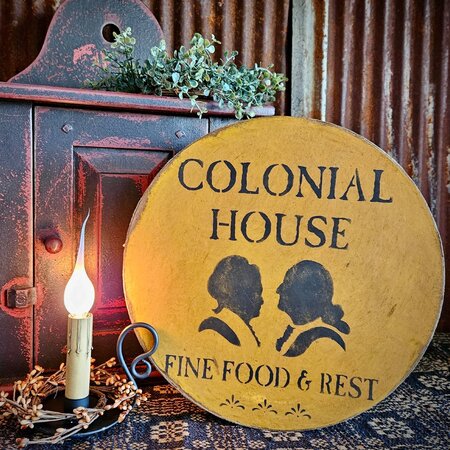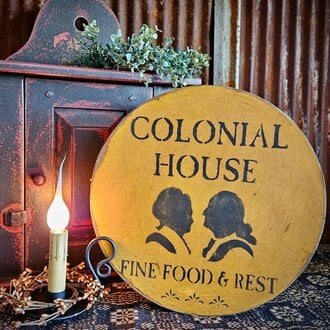 Mustard Colonial House Round Box - 12"
$69.99
Silhouettes of a colonial man and woman adorn the lid of this mustard hand painted round box. Black stenciled lettering spell out "Colonial House, Fine Food & Rest". Ideal size for shelf, bookcase or tabletop. In stock and ready to ship.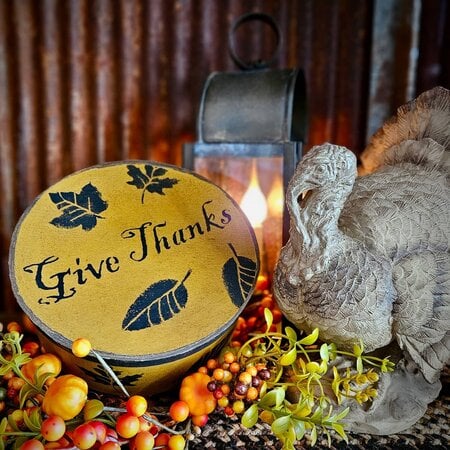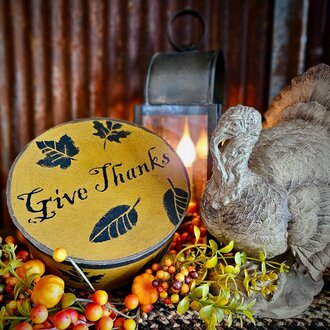 Give Thanks Fall Box
$32.99
This round paper mache box is ideal for finishing off your autumn decorating. And what better sentiment than to "Give Thanks!" In stock and ready to ship.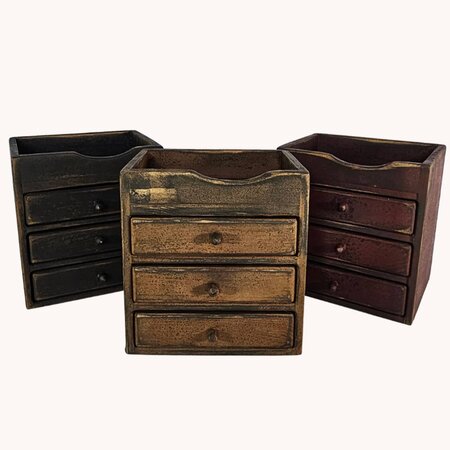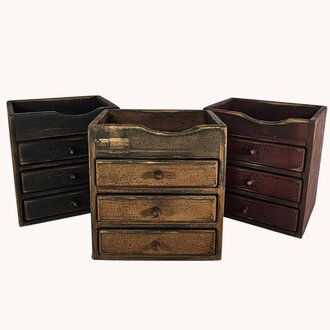 K Cup Cabinet Distressed Three Drawer
$73.99
Add to your Primitive home with the K Cup Cabinet. Great for storage in your kitchen, bath, living room. Great for remotes and other small items or papers.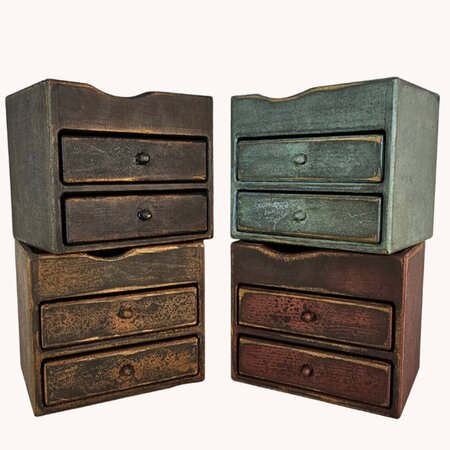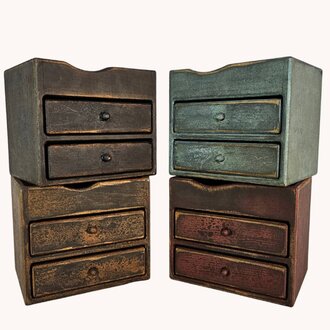 K Cup Two Drawer Distressed Cabinet
$66.99
The Primitive two drawer K Cup Distressed Cabinet is a great place to storer small items like keys, remotes or jewelry. Handcrafted in the USA using solid wood you'll love the rustic look.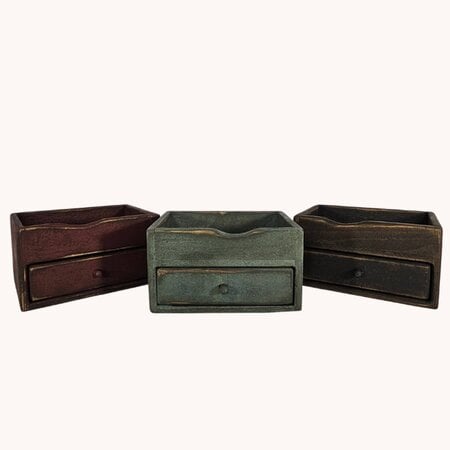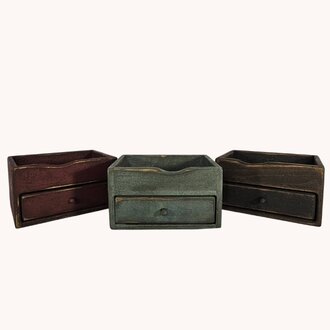 K Cup Cabinet Distressed One Drawer
$56.99
The simple K Cup Cabinet is a great place to drop your keys in the open storage on top or a remote and small items in the drawer. Handmade in the USA. Made with solid wood.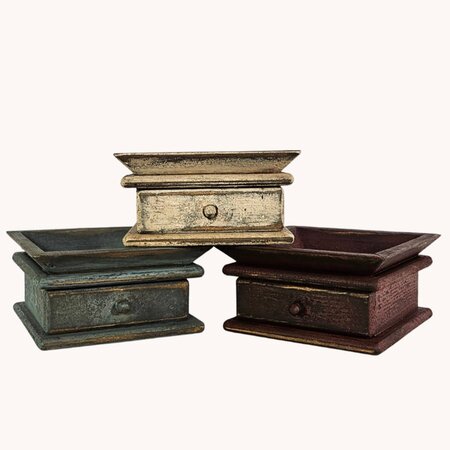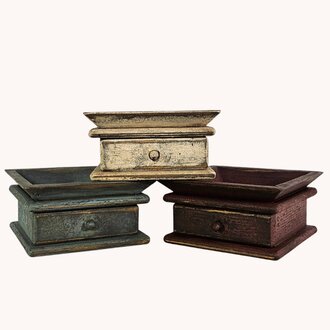 Square Wooden Distressed Candle Tray
$39.99
Distressed with a Rustic finish the Square Candle Tray makes a beautiful and functional addition to your country home. Open space on top can be used for your candle and greenery or used on an island for your keys. Made in USA of solid wood.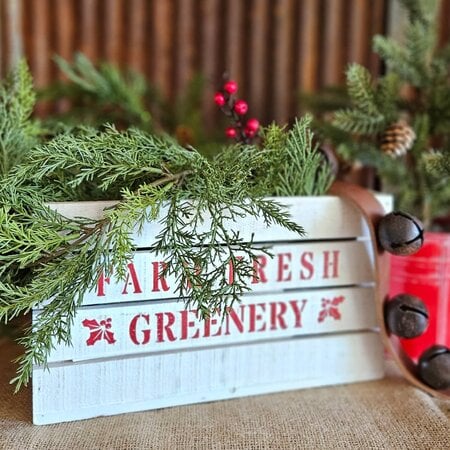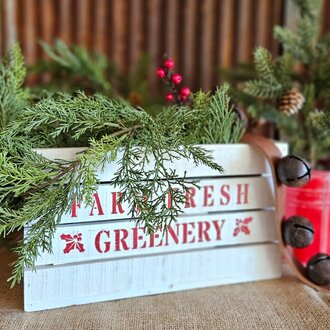 Farm Fresh Greenery Crate
$32.99
Red stenciled Farm Fresh Greenery crates are the ideal size to nest together, or decorate with holiday greenery, florals, or fire kindling. Side cutout handles make for easy carrying. In stock and ready to ship.