Milkhouse Accessories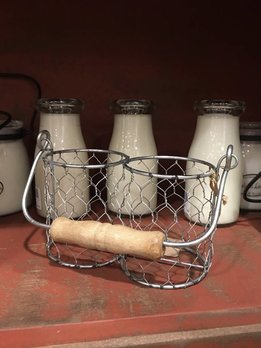 Milkhouse Farmhouse Wire Milk Bottle Basket
The Milkhouse Farmhouse Wire Milk Bottle Basket is a perfect old time touch and it makes a great gift idea. Simply add your two favorite Milk Bottle 8 oz scents! Candles sold separately.
$12.95
Milkhouse Metal Milk Bottle Candle Holder
Another timeless display piece for your Milk Bottle Candles! This metal candle holder is made in the USA and brilliantly holds 2 Milkbottle Candles (not included). Perfect in your country home or as a great gift idea.
$12.95