Snow Folks Snowman
We are proud to EXCLUSIVELY offer Oswald the Primitive Snowman with Cardinal detailing. This is the only place you'll find this handsome fella with his checkered overalls and detailing. Also choose his mate, Merry, and have the complete set.
$74.95
Bernard is one of the finest dressed Snowmen you'll ever see! This sharp dresser loves his festive colors, red scarf and top hat. Complete your look this Christmas with his mate, Alice.
$74.95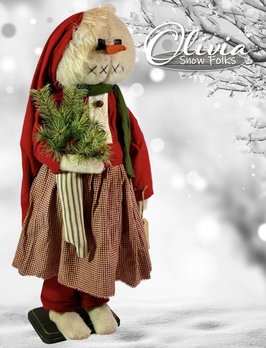 The adorable Olivia has been out to get greens for her Christmas decorating. This festive lady is a little taller and will look great in front of a tree or on a tabletop. Be sure to add her partner, Ollie, to complete your set. Made by hand in the USA.
$121.95