Signs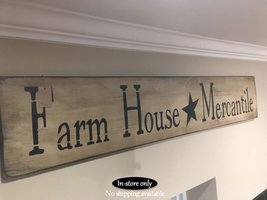 Here's a great addition to your shelf, desk, bookcase, kitchen or bath. You're sure to love this Farm House Mercantile Sign. Handmade in the USA from solid wood. This item is in-stock & available for local pick-up. Shipping not available for this item.
$92.95
Billy Jacob's Grandpaps Barn Print
Enjoy the beautiful Primitive Art of Billy Jacobs like "Grandpaps Barn" in the size that best fits your home. Frames are made of poplar wood painted black & assembled. Choose your frame style. Print will be delivered in 10 - 14 business days.
$52.95