Olive Bucket Candles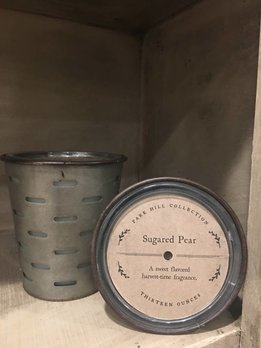 Sugared Pear Olive Bucket Candle
The Sugared Pear Olive Bucket is a sweet flavored scent of harvest-time. You'll love the the flicker of candlelight thru the holes in the Olive Bucket design reminiscent of a vintage olive bucket. Approximate burn time 60 hrs.
$24.95
Sweet Olive Olive Bucket Candle
This Sweet Olive Olive Bucket Fragrance Candle makes a warm addition to any room in your cozy home. It is blended with the highest quality oils for a scent that is like the aged perfection of weathered wood. Each candle comes in a glass insert.
$24.95