1803 Soy Melters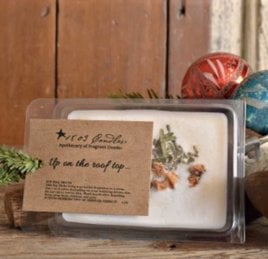 1803 Up On The Roof Top Melters
1803 Up On The Roof Top Melters was created for those that LOVE caramelized brown sugar, warm cinnamon, nutty cardamom, spiced clove, buttery goodness & touches of wood from the hearth. Bring this delicious scent home for the Holidays.
$6.99
The warmth, the taste and the aroma of the first sip of coffee makes for a Perfect Morning. 1803 Perfect Morning Soy Melter brings the fragrance of fresh-ground coffee swirled with sweet, caramel cream and notes of spiced pumpkin.
$6.99
1803 Pumpkin Cornbread Melters
1803 Pumpkin Cornbread Melters smell just like delicious homemade cornbread. The scent of fluffy, warm cornbread flavored with cupboard spice and sweet pumpkin, these melters make it easy to choose a "flame-free" fall aroma for your home.
$6.99