Room Sprays
Sure to become one of your favorites the Barn Star Spice fragrance is a spicy apple butter cakel! The name comes from the label with the barn star, wreath, sunflowers and flag. It is skin safe & can be used as a body spray.
$7.95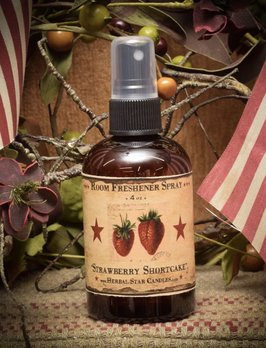 Strawberry Shortcake Room Spray
Freshen your space with the scrumptious Strawberry Shortcake! This terrace scent is a natural strawberry blended with vanilla cake. Not too sweet though, and is sold in a 4 oz bottle. Get your bottle today!
$7.95
Olde Holiday Glow Potpourri Spray
Refresh your potpourri with the Holiday scent of Olde Holiday Glow! A blend of winter spices so that your home will smell just like Christmas…warm, cozy, sweet and spicy, along with the smell of pine! 2 oz bottle. In-stock and ready to ship!
$7.95